The Los Angeles Rams have a lot of figuring out to do at the edge defender spot on their roster. With Dante Fowler Jr. set to become a free agent, the team will have a decision to make. While players like Samson Ebukam, Ogbonnia Okoronkwo, Natrez Patrick, and Jachai Polite offer upside. We have learned all to well in the past that you can never have too many pass rushers. It's also uncertain whether or not Clay Matthews will even be back with the team.
With that being said, there is a chance the Rams look at the edge defender position in the draft and with a healthy crop of talent they will have plenty to choose from if they go down that road. One of those talents? Alex Highsmith.
College Bio
Highsmith is a redshirt senior that worked his way up the rungs of the ladder. He walked on at Charlotte and played in a total of 48 games in his career and started 26 of them, 25 of which came in his junior and senior seasons. He's the first Charlotte 49er in program history to receive All-America honors and All-Conference USA honors twice.
The 49er star caught the attention of many in 2019 as he logged his way onto the Chuck Bednarik Award Watch List and was highly praised by his opponents at Clemson which included head coach Dabo Swinney. Swinney said "That No.5 could play for anybody in the country." and he certainly meant that.
Highsmith finished his memorable career at Charlotte with 185 tackles, 115 solo, 46 tackles for a loss, 20 sacks, three forced fumbles, one fumble recovery, five pass breakups, and 24 quarterback hits. He was truly a decorated defensive player that will be remembered for a long time by his coaches, teammates and the Charlotte fans.
Measurables
Height: 6'4
Weight: 242
Strengths
Highsmith's explosive first-step is what opens your eyes when you watch his film. He can win in a few different ways. He does a great job of using his twitch ability to shuffle his way inside and find an opening. An overall quality athlete that can change directions and chase down potential ball-carriers. Possesses a quality inside spin move and inside chop. His overall flexibility is exactly what you would want at the next level and especially as a 3-4 standup pass rusher. Has the speed off the edge to get by almost anyone. He can flip his hips like a defensive back which adds to his overall value in coverage. High motor player.
Weaknesses
Highsmith's lack of power in his game makes his approach somewhat predictable and limited. He can get stifled against bigger offensive tackles that have no issue establishing an anchor. He tends to be a contributor in the run game but doesn't lay the wood. There just isn't enough pop behind his pads which allows ball-carriers to slip by his tackle attempts. Overall hand usage is lacking, doesn't hand fight enough or with consistency. Has trouble disengaging blocks which leads to him being taken out of a play. The athletic build makes it unlikely he can add much more weight to improve his strength issue. Isn't a versatile edge defender, likely going to have to stay put as a 3-4 pass rusher only.
Three Plays on Tape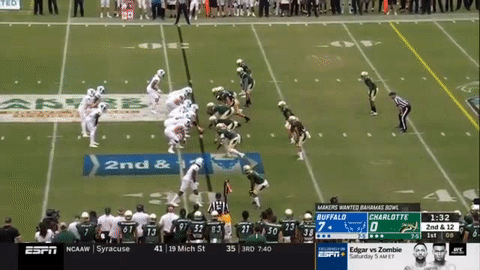 This right here is a play that shows how dominant Alex Highsmith could be if he was able to add more functional strength. Highsmith wins at the point of attack and shoves back his assignment a good two years behind the line of scrimmage. He carves up a hole in the backfield to attack the ball-carrier. The get-off is once again great but the power he displays here is exactly what Highsmith needs to continue to do. If he can develop his transfer from speed to power and work on his overall technique, he could be a very good football player for a long time at the next level.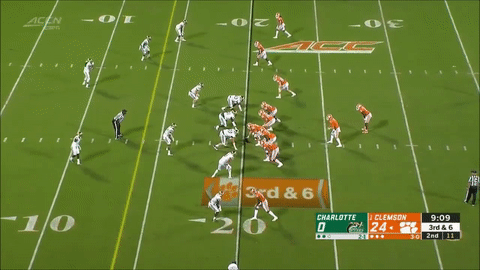 Here's a play that shows exactly why Highsmith can't be called just a one-dimensional pass rusher. He may be a speed rusher but that doesn't mean he can't be crafty. On this play, he beats Clemson left tackle Jackson Carman on an inside spin move and makes his pursuit to the quarterback. There is no sack here and unfortunately, his teammate picks up a costly penalty in the end zone but this is great pressure and a great overall rep by Highsmith.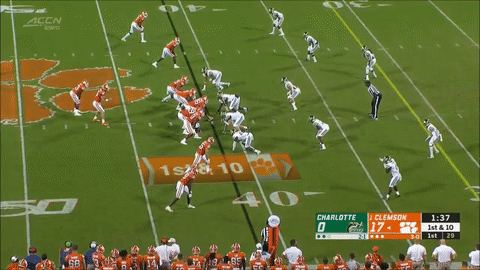 Highsmith displays his incredibly quick get-off as he releases out of his stance and times the snap perfectly. The Clemson left tackle Carman has no chance as Trevor Lawrence is forced to get rid of the ball immediately.
Development
Highsmith is a developmental starter at the NFL level. He's going to need some technical refinement but he can play day one in a rotational based role and have success from the get-go. The question is where the ceiling is for Highsmith. His speed rusher profile doesn't allow him to be an all-around well-rounded type of player but his speed rusher profile does allow him to potentially dominate the edge if he works on his overall craft and his first-step translates.
Draft Grade: 3rd-4th Round
Bottom Line
Highsmith is a talented player that will have an NFL future. The question is how big of a future will it be? He's likely going to be able to play for a team on a rotational basis right away. However, he could start day one depending on the situation. If you want to maximize the effects of Highsmith, you'd best have a plan for him. He has a toolbox that can't go to waste. However, you will need to develop a plan for his lack of functional strength. At worst, you are looking at a double-digit sack specialist in the NFL. At best, Highsmith could be a very good pass rusher starting in the NFL for years to come.
About Post Author