If the Rams are planning on competing this year, and all signs point to "yes", the team will need to bring in a competent back up who could run McVay's/O'Connell's offense in case of an injury to starting QB Jared Goff. Currently, the only other quarterback on the roster is John Wolford, who saw limited time in the 2019 preseason and spent most of last year on the Rams' practice squad.
Now Snead and company may consider drafting a quarterback, most likely using a later round pick. This is due to the fact that the Rams are already  missing their first round pick (traded to Jacksonville for CB Jalen Ramsey) and the team has multiple holes/needs to fill across the roster. If Snead wants to give McVay/O'Connell a "real" back up quarterback that can be used in 2020, it is likely to be a free agent or through a trade. As of the date of this writing, there have already been a number of quarterbacks who have been signed or acquired via trade. Time is running out for the Rams to secure a backup with legitimate NFL experience.
Via Free Agency
By attempting to fulfill this important role, the Rams are likely to try to get someone in free agency, rather than give up an asset to acquire someone in a trade. Two quarterbacks that the Rams may consider still remaining in free agency are former Super Bowl MVP Joe Flacco, and journeyman Trevor Siemian.
Joe Flacco: 
Joe Flacco was recently cut by the Denver Broncos after one season. Acquiring Flacco would happen through a free agency deal. Prior to last season, Flacco spent his career as the quarterback of the Baltimore Ravens, and brought them a Super Bowl Championship. He still has a strong arm at this stage in his career, although he is no longer an elite arm talent.
Flacco has struggled in his later years due to injury, but still provides enough to fill in for a few games in case of an emergency. One of the benefits of going with Flacco is that he brings the experience of being a champion as well as 10+ years as a starting NFL QB. He can act as a mentor to Goff, and improve the quarterback role.
This is a crucial year for Goff, and adding Flacco would aid in Goff's developmental curve while simultaneously allowing the Rams to add a veteran QB who can slide in for a series of games as a quality "band aid".
One of the hold ups with Flacco is the aforementioned injury history, and a medical evaluation would be important before any signing could take place.
Trevor Siemian

:
Trevor Siemian is a twenty-eight-year-old journeyman quarterback who has played for the Broncos, the Vikings, and most recently, for the Jets.
Siemian's 2019 season was ended by injury while filling in for Jets' starter Sam Darnold. When healthy, Siemian has started 25 of his 27 games played. He brings valuable experience as a back up and knows the role well.
Siemian would be add a sense of stability as a back up quarterback and is still looking an opportunity to prove himself. This former starter has proven that he has the skills to adapt to an offense.  If needed to play a few games while Goff recovers from a hypothetical injury, Siemian would provide a sense of confidence in the team that someone without this starting experience would not be able to provide.
Outside of free agency the Rams may try to acquire a quarterback from another team.
Via Trade
Jacoby Brissett: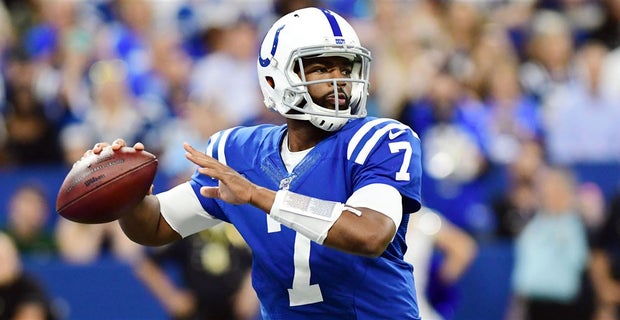 Jacoby Brissett is an interesting option. He started for the Colts last year, but this off season the Colts have signed Phillip Rivers to be their starting QB. This puts Brissett in an uncomfortable position as a back up on a team he formerly started on.
Due to this, the Colts' relationship with Brissett may be coming to an end. Brissett is clearly a talented quarterback, and would most likely be considered one of the, if not the, best back up in the league. If he is not given an opportunity to start, it may be better for both sides to have Brissett playing somewhere else.
However, the primary issue with Brissett would be his contract. Prior to last season the Colts signed Brissett to a two year, $30 million deal. That deal included a roster bonus that was paid by the Colts on March 22nd. This is a sign that the Colts plan on keeping Brissett as a back up, but we all know how quickly things change. If this situation takes a turn for the worse, Brissett could potentially be released.
Bringing in Brissett is not very likely, but would provide the best back up quarterback possibly available, in terms of skill.
Josh Rosen:
A few years ago, then-UCLA QB Josh Rosen was a hot prospect. But after poor rookie season on a terrible Arizona Cardinals team, he was traded to Miami. Ryan Fitzpatrick, and not Rosen, eventually became the starter in Miami and it seems that Rosen doesn't really have a future there.
Rosen is still extremely young, and has some potential remaining. Sean McVay and new OC Kevin O'Connell may be able to squeeze some more out of him and make him, at minimum, a viable back up on a Rams team in need of a contingency plan should Goff spend time on the sidelines.
Rosen hasn't played very well in his young career, but has shown signs of potential. He could be an option that the Rams could acquire for a very reasonably price, as the Dolphins would not ask a lot for him. Rosen also has an Los Angeles connection, playing his college ball at UCLA.
Summary
Overall, there are many options that the Rams can take, but the worse option is to do nothing. While John Wolford is talented, his lack of NFL experience is extremely concerning. Teams that are not prepared for adversity, such as injury at quarterback, do not overcome those adversities.
About Post Author