It was a surprise that a team that drafted five offensive linemen in the last two years put such a premium on signing some of the best undrafted offensive linemen. However, the Los Angeles Rams did just that. The starting five is decided, but with plenty of future opportunities around the corner, roster spots are at a premium.
Middle Tennessee State offensive lineman Chandler Brewer signed onto the Rams training camp roster and is looking to make an impact on his quest to make the 53-man roster. He's next in our roster preview series.
College Career
Brewer's freshman year he was named to the All-Conference USA Freshman Team after playing in all 13 games while making 11 starts. In that first season, Brewer displayed his versatility early with four recorded starts at tackle and seven at guard. Brewer played the third-most snaps (875) of all linemen which included a game in which he played 92.
During his first year, it was no coincidence the Blue Raiders set single-season records in total offense, scoring and passing yards. It was the first time in program history that there was a 4,000-yard passer and two 1,000-yard receivers in the same season.
In his sophomore year, Brewer started all 13 games as he led an offensive line that allowed the fewest sacks in the conference, despite throwing the ball the most. Following the season, Brewer was named as an honorable mention All-Conference USA.
As hits junior year came, Brewer had officially won over the team and his coaching staff en route to becoming a permanent team captain. Brewer finished once again earned Honorable Mention All-Conference USA,  starting 12 games at right guard. The offensive lineman proved to be a model of consistency that showed more and more upside.
Brewer started all 14 games his senior year while giving up two sacks in over 450 pass attempts. Following the season, Brewer was named first-team All Conference-USA for the first time. .
The Blue Raider's path to the NFL wasn't just making it through college with one missed game. Brewer now had to find a way to train for the NFL while monitoring and ultimately controlling his body pre-draft as he was battling and played with non-Hodgkin's Lymphoma the whole year.
Roster Battle
Brewer is listed as an offensive guard but can play at offensive tackle as well. The battle for Brewer doesn't matter about positions specifically. It's all about the number of players the teams decides to keep on the offensive line. The starting five are probably a lock with Bobby Evans and David Edwards. That leaves one, maybe two spots available.
Three Plays on Tape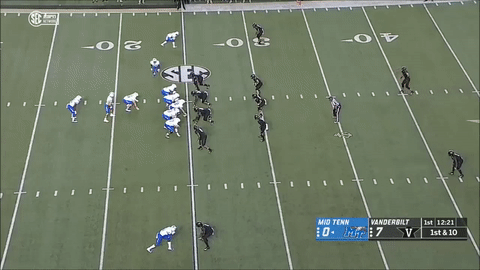 This is the first play of this game for the Middle Tennessee offense. Watch as Brewer (No. 73) displays quickness, power and consistency here as he seals off the hole, allowing his running back to get through for a short gain.
All of the pressure on this third down is coming right up the middle. Brewer holds his own, giving his quarterback a clean pocket. The quarterback throws the ball short of the sticks, but he's able to get the throw off in large part because of Brewer.
This last play shows off Brewer's athleticism. He starts at right guard but pulls over to the left tackle spot in time to block the incoming rusher. If Brewer doesn't get there in time it's a sack, instead, this is a significant gain.
Biggest Question
Will Brewer prove himself enough in training camp to make the roster?
Brewer has upside, a story, and hard-working mentality. However, the Rams have a limit of players they can house. If Brewer can't entice the Rams enough, he's either going to be a practice squad option or miss the team outright.
2019 Outlook and Role
If Brewer happens to miss the roster cuts, this is a player that is your typical draft development project that earns a spot on the practice squad. This is, of course, if Brewer misses the cut.
Chances of Making Final Roster
It's going to be very difficult for Brewer to make this roster, but it's not impossible. Brewer has versatility, great size at 6-foot-5. 320-pounds, and an understanding of the sport. The Rams have one of the deeper rosters that they've had in recent memory. The guys that are on the bubble need to make their presence known throughout training camp and the preseason.
About Post Author