The NFL Supplemental draft is on Wednesday, and while many teams are set and ready to go heading into the 2019 training camp season, Pro Football Network's Tony Pauline reported that the Rams met with Supplemental Draft prospect, Jalen Thompson.
According to Pauline, 26 of the 32 NFL teams were present at the workout, including the Rams and the defending Super Bowl champion New England Patriots. What's interesting about this situation is that the Rams drafted two talented safeties and signed Eric Weddle in free agency.
Thompson is a safety/nickel corner hybrid that is ready to contribute day one on an NFL roster. Thompson was one of my highest graded safeties in the 2019 NFL Draft before he decided to return to Washington State for his senior year.
That plan backfired after the NCAA ruled Thompson ineligible, thus ending the student athlete's collegiate career. This is why the NFL Supplemental Draft is in place. Thompson likely would have put him among the top five at his respective position for prospects entering next year's draft. Jim Nagy, who is the head of Senior Bowl scouting, made it pretty evident that Thompson was indeed on their radar before the season even started.
Thompson is a  very talented player, and while the Rams drafted two safeties in the draft, he's a player that still makes sense for Les Snead to take.
It's worth mentioning that Snead had already made a Supplemental Draft pick in his Rams tenure in 2015 when the team took offensive tackle Isaiah Battle out of Clemson. Battle ended up not making the team, but the Rams paid him an extra amount of money to give him the incentive to stay on the practice squad and to deter other organizations from taking him.
Will Jalen Thompson join a crowded secondary in Los Angeles? That won't be known until Wednesday. However, should Jalen Thompson join a crowded secondary in Los Angeles? That's an answer I'm going to provide for you now as we take a deep dive into everything you need to know about Jalen Thompson.
The Measurables
Height: 5-foot-10
Weight: 186 pounds
40 yard-time: 4.47 seconds
Vertical Jump: 33.5 inches
Broad Jump: 10-feet-4-inches
Bench Press: 11 repetitions
The Origin
Thompson is a former 2016 three-star high school cornerback recruit from Downey High School in Downey, California. The three-star had two legitimate offers from the Washington State Cougars and the San Diego State Aztecs. Thompson chose Washington State and never looked back. He was named to ESPN's True Freshman All-America team his freshman year, was an All-Pac-12 conference second team his sophomore season, and in his junior year, he was named All-Pac-12 conference honorable mention as well as a Bednarik Award Watch list member.
Thompson started all 39 games he played in and never once missed a game due to injury. In his three years, Thompson amassed 190 total tackles, 11.5 tackles for a loss, 17 pass breakups, five fumble recoveries, two forced fumbles,  and six interceptions. During his career, Thompson rotated between starting at both safety positions and playing cornerback as well. Thompson, unfortunately, was ruled ineligible and now is the favorite prospect in the 2019 Supplemental draft.
The Pros
Operates exceptionally well around the line of scrimmage and is a sound downhill tackle
What you see is what you get with Thompson and on this 1st-and-10 play, Thompson crashes the line of scrimmage and gets the tackle for loss on ball-carrier Myles Gaskin. Does a nice job reading and reacting here. pic.twitter.com/JXypc0XlXO

— Downtown Rams [DTR] (@DowntownRams) July 9, 2019
For Thompson, this play right here is precisely what he is looking to accomplish. What you see is what you get with Thompson and on this 1st-and-10 play, Thompson crashes the line of scrimmage and gets the tackle for loss on ball-carrier Myles Gaskin. This is solid tackling, but more so, this is an athlete who can read and react. Watch how effortlessly Thompson goes from leaning to one side of the field to accelerating downhill and making the play on the other side of the field.
Quick-footed defender
Look at how quick Thompson flies around the offensive line only to turn the corner and complete the tackle at the line of scrimmage. He's so comfortable working around the line of scrimmage and is an underrated tackler. pic.twitter.com/1TOtno5nqf

— Downtown Rams [DTR] (@DowntownRams) July 9, 2019

Believe it or not, this is the same game. The third quarter just started, and you see the snow on the ground. Thompson comes around the offensive line to rack up another tackle right near the line of scrimmage on Gaskin. This play was a designed blitz, but what is so impressive is how quickly Thompson can turn the corner and finish the with a solo tackle.
Tone-setter. Nonstop Motor.
Gotta love how Thompson is the first guy to lay the wood on the receiver. This goes for a huge gain, but Thompson was on the other side of the field and just watch as he hustles all the way to the other side and delivers a crushing blow. Big-time high motor player right there. pic.twitter.com/m0tjIBYZ4d

— Downtown Rams [DTR] (@DowntownRams) July 9, 2019
This is one of those plays where the casual fan looks at this play as a total failure by Washington State, and while that is probably correct, it's incredibly impressive how Thompson arrives after playing on the other side of the field. His motor is pretty clear on this play as he's the first player to lay a hit on the ball-carrier.
Here's another one. He just always hustles. Going to be a fan favorite wherever he ends up. A true tone-setter. Thompson isn't even visible on your screen and then he comes out of nowhere and once again finishes the play. pic.twitter.com/2MBygwbnKS

— Downtown Rams [DTR] (@DowntownRams) July 9, 2019
Should you even be shocked when No. 34 finds himself in the picture at the end of a play? This is another play that doesn't go well for Washington State, but it's evident that Thompson plays the game with so much more urgency than the rest of his teammates. If you want to talk about leading by example, Thompson embodies that.
Man Coverage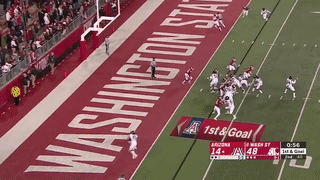 Forget the scoreboard for a minute as Thompson makes one of the best end-zone fade pass breakups you will ever see. This is especially impressive because Thompson does not have his eyes on the ball. He's reading what the receiver is telling him with his body.
Thompson would not have been beaten for a touchdown if Aaron Rodgers threw this ball. This is outstanding coverage as he sticks like glue to his assignment and breaks on the ball with ease. Thompson, as mentioned, does a great job of reading and reacting just based on the information the receiver's body language is giving him. Thompson's hand gets in the way of the football at the perfect time, and with a little jump, it's an incomplete pass breakup on 1st-and-goal. This is an extraordinary play coming from a very talented player.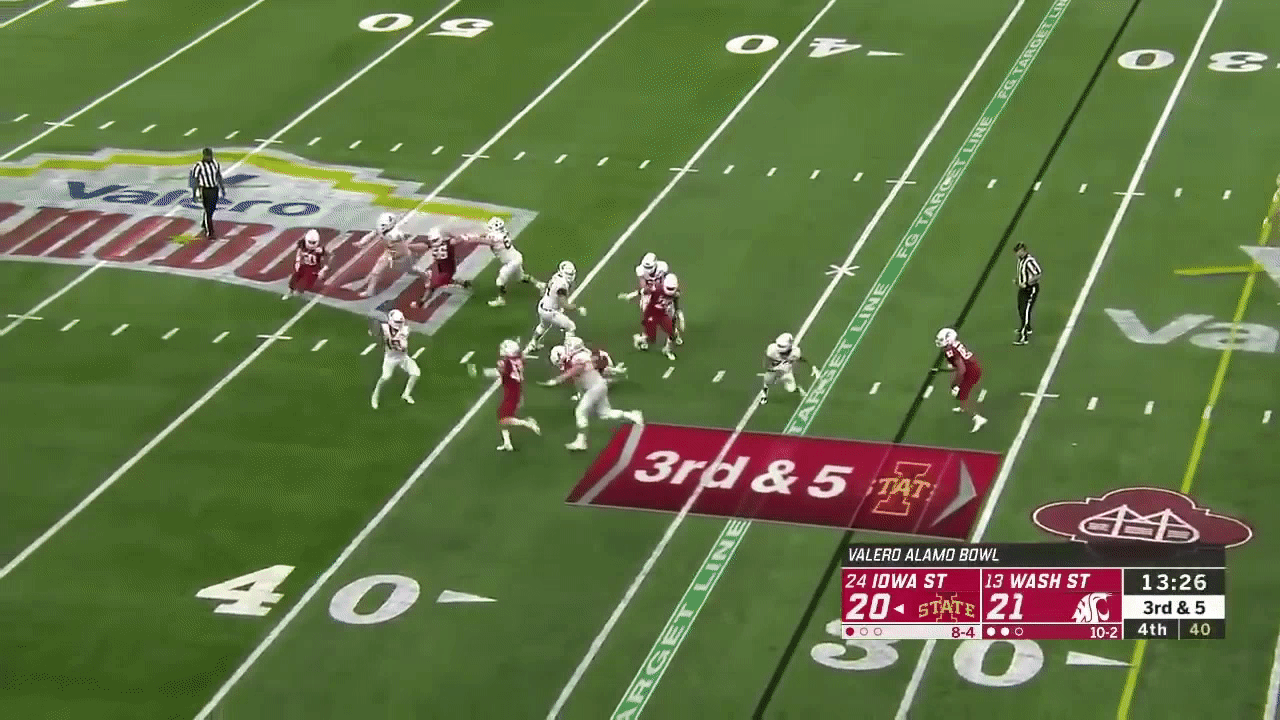 This is a massive play in the Alamo Bowl. Quarterback Brock Purdy knows this, and despite the immense pressure he scurries out of the pocket while being wrapped up to deliver a potential first-down play. That's when Thompson makes one of the biggest plays of the game with picture-perfect coverage on the receiver.
This play comes at the beginning of the fourth quarter, but this is huge because Iowa State ends up settling for a long field goal in which their kicker misses the attempt off of the uprights. This is a big-time 3rd-and-5 play made by someone who can play all over the secondary.
Ball-hawking and Read-and-React ability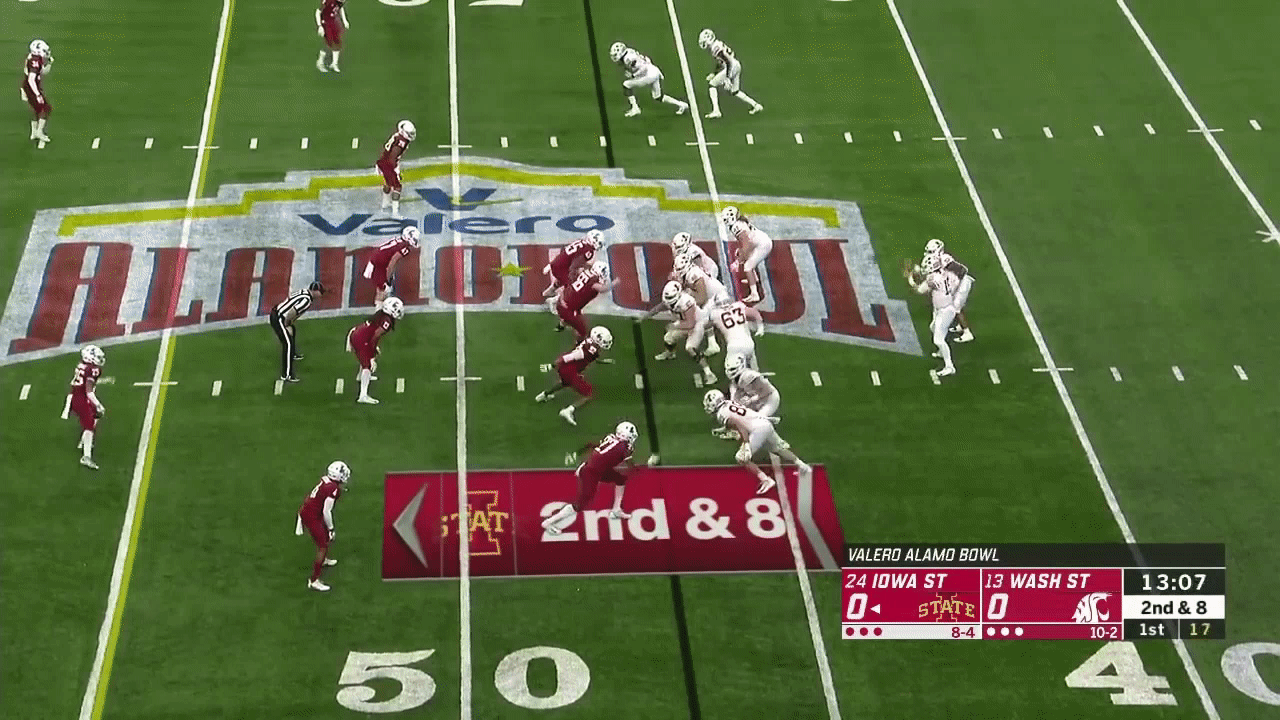 This game just started at this point, and Thompson is already flashing just how dangerous he can be. Iowa State quarterback Purdy rolls to his right and makes a poor decision to throw into a sea of red uniforms. Thompson doesn't do anything extraordinary here, but he does read Purdy's eyes, jumps the route, and makes the interception to set the tone early.
Range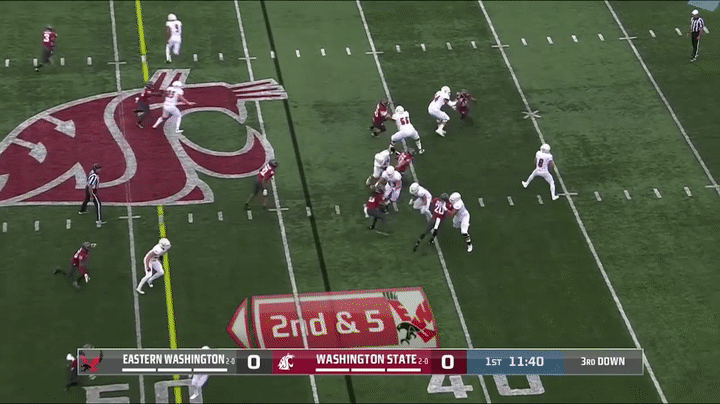 Thompson is patrolling centerfield here on this play. It's early on in the game, and the Eastern Washington quarterback is looking deep on third-down no matter the cost. The pressure gets to the quarterback and impacts the trajectory of the ball, but it's still impressive how Thompson gets over to the other side of the field and makes the interception. This is an excellent display of his range and how he can be used all over the field.
Ball skills and Timing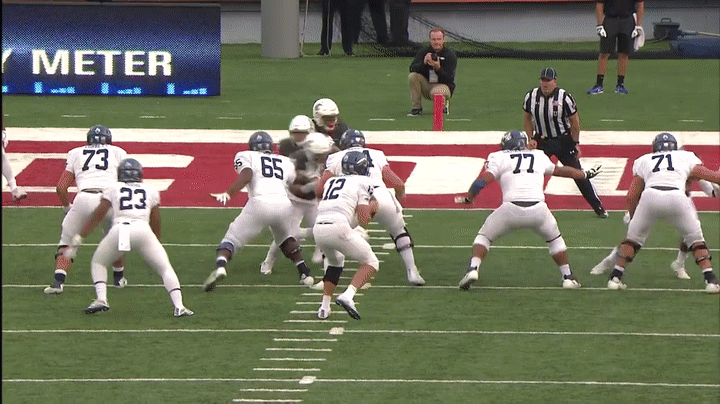 This is a fantastic play by Thompson in the red zone. Nevada is threatening to score, and Thompson reads the quarterback's eyes, times his jump, and high points the football like he's a receiver. This is especially impressive considering Thompson isn't that big and shows another way that he can impact the game.
The Cons
Tends to blow his coverage assignment while looking for the bigger play.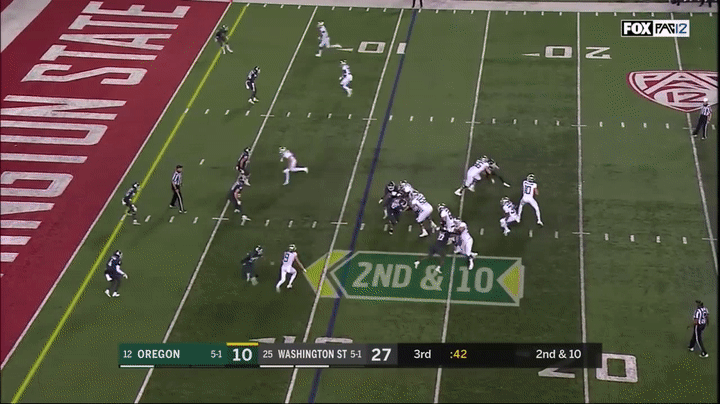 This is a troublesome play here. We will never know for sure if this is entirely Thompson's fault, but it sure looks like his assignment. The receiver can get by Thompson while he hesitates to travel back. Thompson gets caught staring into the eyes of Oregon quarterback Justin Herbert.
He may have felt he was in a good position, forgotten his assignment was there,  misjudged how far the receiver got past him. Either way, this can't happen.
Herbert leads the Ducks on a touchdown drive to make it a ten-point game heading into the fourth quarter. An interception isn't needed here and holding Oregon to a field goal would have been a win for the defense. However, Thompson blows the coverage.
Can occasionally take the wrong path to the ball-carrier and take himself out of the play.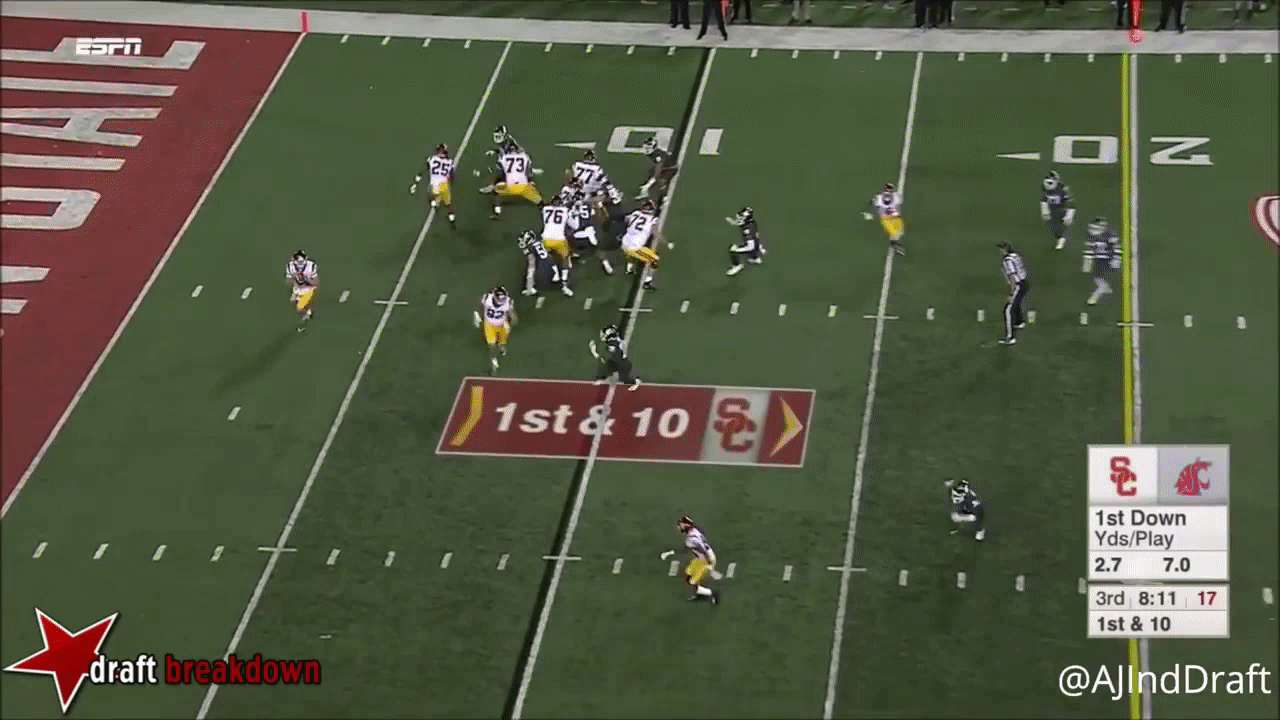 This isn't something that happens a lot, but in a close game, 20-17, in the third quarter, Thompson has to make this stop. The Washington State safety comes down to the ball-carrier, running full speed and gets caught entirely out of position.
To make matters worse on this play, Thompson gets spun around and never gets back up to speed. Lucky for him, it's just a first down, but this play still needs to be made. Typically, when watching Thompson on film, he's outstanding about slowing himself down and staying in control. This play, however, was not the case.
Smaller build opens him up to getting bullied by bigger receivers
This might be considered being picky about Thompson's game, but this is the good and the bad. Size is not a skill, but it certainly helps. Iowa State receiver Hakeem Butler is a physical specimen and someone that has generational talent. On this play, Purdy puts up an inaccurate ball that Butler grabs with one hand.
Butler is an outstanding player, but the issue is how Butler bullies Thompson. This isn't something that can happen at the next level. There are plenty of these types of receivers that Thompson will be in charge of covering and this isn't going to be an acceptable or winning result.
Thompson misjudges the ball, but the problem here is that Thompson's size opens him up to getting bullied by bigger receivers and ball-carriers. There's even a play in this game where running back David Montgomery throws Thompson to the ground.
There's effort out of Thompson on this play, but he will need to get better as a tackler on the more significant assignments. This is where his lack of overall bulk could pose an issue for Thompson moving forward. The main reasoning behind that is due to the fact Thompson likes to make textbook tackles, he really doesn't go low and unfortunately, that means that he tackles the bigger guys too high. The result is needing help out of his teammates, which if they don't get here, Butler storms down the sideline and breaks away into the end zone for a touchdown.
The Summary
Jalen Thompson stands at 5-foot-10 and doesn't weigh 200 pounds. He's a player that can play free safety, strong safety or even come in as a nickel cornerback. He's had a lot of experience playing safety for one of the best football programs in the Pac-12.
A full three-year starter that has a great deal of athleticism, leadership and football IQ, Thompson is a future starter at the next level, and it shouldn't take him long to reach such lofty expectations. He operates exceptionally well around the line of scrimmage and produces results when placed in that role.
Thompson works well out of a back-peddle, which leaves me to believe he could potentially play in every role in the secondary. The  Washington  State safety does a great job of reading and reacting and is someone that can break the game in an instant with his ball-hawking ability. He reads quarterbacks like a book but now and then it causes him to get caught up and stuck in a coverage lapse.
While Thompson has excellent ball skills and displays vast range in being able to go from one side of the football field to the other, he also presents weaknesses in an area of defending bigger assignments. The worry for Thompson in coverage will be against the bigger receivers like a Julio Jones, Mike Evans or Michael Thomas type of player that uses their physicality as part of their overall game. Thompson does lack consistent physicality, which is why I wouldn't recommend him in press coverage. He doesn't re-route receivers easily, and that area of his game is somewhat flawed.
The lack of zone coverage based scheming makes him a less scheme versatile and more scheme dependent player than you would like coming out of college. However, Thompson's non-stop motor, his tone-setting qualities, and his man coverage skills are enough to be a force at the next level.
The Comparison
Due to all of the traits and the size similarities, I compare Jalen Thompson to that of current Kansas City Chiefs safety Tyrann Mathieu and think this is a player that can be a tone-setter for a defense. Mathieu is a feared player because, while he's short and not physically imposing, he's someone that can make an offensive player pay with a hit, an interception, or by forcing a fumble.
He's one of those players that is always around the ball, and he's a hustle guy that has a non-stop motor. It will be interesting to see what defense Thompson falls into, but he definitely could end up like a Mathieu or LaMarcus Joyner type of player that makes it in this league and stays for a long time.
The Projection
Thompson projects as a fourth-round selection but would be more likely to go higher if he wasn't in the Supplemental Draft. Thompson projects as a future NFL starter that could end up being a pro bowler in his career. Due to his lack of experience in zone coverage, he may need to take some time and develop his game further before starting.  He could start as a special teams ace before moving into a full-time starting role.
While many will project Thompson to be a nickel corner, even with his versatility, I see him as a full-time free safety. His ball skills, his range, and his ability to come downhill and make a tackle are the main reasons for doing so.
The Rams Secondary Depth Chart
Cornerback
Marcus Peters (UFA in 2020)
Aqib Talib (UFA in 2020)
Nickell Robey-Coleman (UFA in 2021)
Troy Hill (UFA in 2021)
David Long (UFA in 2023)
Kevin Peterson (ERFA in 2020)
Darious Williams (RFA in 2021)
Dominique Hatfield (RFA in 2020)
Safety
Eric Weddle (UFA in 2021)
John Johnson III (UFA in 2021)
Taylor Rapp (UFA in 2023)
Marqui Christian (UFA in 2020)
Nick Scott (UFA in 2023)
Steven Parker (ERFA in 2021)
Ramon Richards (ERFA in 2021)
Donte Deayon (RFA in 2020)
Jake Gervase (RFA in 2022)
Why The Rams should select Jalen Thompson in the Supplemental Draft.
Thompson would make sense for the Rams. His zone coverage inexperience is worrisome because Wade Phillips does like zone. However, this is a talent. This is someone that I had graded around the same level as the Rams second-round pick Taylor Rapp. Despite the Rams bringing in three safeties this offseason, there is a lot of uncertainty at the position.
While the Rams did draft Rapp who plays the same position, Thompson could easily compete with him for the job once Eric Weddle retires. The Rams also drafted Nick Scott, who is going to be a great special teams player, but may not see much time on defense.  Thompson could realistically be in play for the third safety spot if given a chance. That's not to mention how many times players get injured during the grueling 16-game season. Thompson would be a luxury to have this year in that regard.
If Thompson is indeed looked at by the Rams as a versatile piece,  the argument for being selected grows larger. The Rams have to pay Marcus Peters who will enter free agency following this year, as well as Aqib Talib, and Nickell Robey-Coleman who signed through 2021.
Adding even more onto that Kevin Peterson and Dominique Hatfield become free agents in 2020. That leaves just David Long who is signed through 2023, Troy Hill who is signed through 2021 and Robey-Coleman. That's not ideal and is another argument for the pro-Jalen Thompson crowd. Thompson does resemble similar qualities to former Rams, LaMarcus Joyner, and Blake Countess.
However, the skills that set Thompson apart are his ball skills and overall man coverage skills. There aren't many safety/cornerback hybrids you can find right now in free agency that is as refined as Thompson is coming into the NFL.
This is a team's last opportunity to truly add a contributor to their roster until the roster cutdowns and Thompson is an addition that could be beneficial this season and become extremely beneficial two or three years down the road.
If the Rams bid a fourth-round selection, the team would be without a fourth and fifth-round selection in the 2020 NFL Draft. With the Rams meeting with Thompson at his pro day, he could be a real possibility as it at least shows interest. The Rams haven't made a selection in the Supplemental Draft since 2015, but that might all change come Wednesday.
About Post Author